It is the season that historical societies and churches in our area have their holiday fairs. These fairs have charming names like Yuletide Festival, Sleigh Bell Fair, and Cranberry Fete. A peek at the Friday newspaper and there are 10 - 20 of these events on any given November Saturday. Yes, sirree. Sign me up. Plan the route.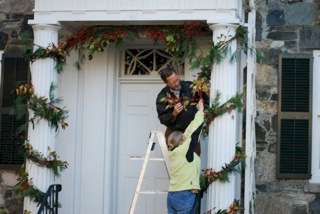 Stone House Yuletide Festival
In recent years, there has been the propensity for these events to offer prettily prepared theme baskets that have been donated by patrons and on which one is to bid. Baskets such as the tea basket, the lottery ticket basket, and the bird feeder basket. How nice but I'm not really interested. I go specifically for base items - edibles and rummage.
For edibles we are talking jams, pickles, Indian pudding, fruitcake, rum balls, and exotic cookies that I do not make myself - luscious and all expertly homemade mostly by the female contingent of the organization. Like a squirrel, I stock up - particularly on the fruitcake and jam.
Fruitcake seems to have a negative reputation but I'll take it any old time. I will walk an extra mile each morning in order to enjoy a slab at my desk while at work in the afternoon. There have been unsolicited comments from non-fruitcake fans so I've learned to be discreet. Fruitcake at work seems to have the same bad rap akin to the company policy that is nebulously worded to ban "untoward substances."
Yes, Yes, Yes!
Jam. What can I say? I was raised on jam. When young, every summer we practically lived at the Greenbriar Jam Kitchen and bought from Briar Lane as well.
"For Mrs. Weston" is written on every jar.
The rummage sections, particularly at the churches, are similar. Ladies with holiday pins on their sweaters or festive aprons stand behind tables where the oddest assortment of items is attractively arranged. This arrangement defies reason - books amongst blenders mixed in with vases, some one's extra yarn, a trivet, and a pocket sized kit of screw drivers. Then always, on a small table is the old jewelry section. This section usually has the old circle pins, clip on earrings and such arranged in the little cardboard boxes with the cotton.
It seems that the men are relegated to move the big rummage items off in another section. They patrol this area often with Santa hats sitting jauntily atop their heads. They can be flirty as they try to convince you that you really want the old dehumidifier that was once in the church cellar.
Yet, there are incredible treasures to be found. Some examples: a vintage navy pea coat for my niece for .50 cents (Why is there not a cents sign on my computer? - troubling), another gurgling fish pitcher, and a Brownie camera.
Gurgling fish pitcher
Jam, fruitcake, and rummage - As that sage, Rick James, once eloquently and aptly stated "Give It to Me."